Background
Frank A. Sommario had just completed law school and was about to start his career as a lawyer when he suffered a crushed ankle in an accident. After a brief delay and months of rehabilitation, Frank began his new job as a workers' compensation lawyer. Today, you'd never know he had an accident that could have left him with a permanent disability. He fully recovered and was compensated for his injuries thanks to Antonio Romanucci, who successfully represented him in a lawsuit.
Frank served as counsel to Antonio's law firm in workers' compensation matters before joining the firm full-time in 2007. As a petitioner's workers' compensation lawyer, he vigorously fights for the rights of his clients and has obtained several large settlements and favorable trial awards for injured clients. He considers it a privilege to help injured workers get the benefits they deserve.
For his successes representing injury victims, Frank has proudly been named one of The Best Lawyers in America© for 2017-2023. Super Lawyers has recognized Frank as an Illinois Top 100 Super Lawyer for 2019 and 2022-2023, one of Illinois' Super Lawyers for 2016-2023, and one of Illinois' Rising Stars for 2010-2015. Additionally, he was named a Leading Lawyer by Law Bulletin Publishing Company's Leading Lawyers Division for 2016-2023. In 2015, he was named an Emerging Lawyer by Law Bulletin Publishing Company. The Justinian Society of Lawyers presented Sommario with the prestigious Award of Excellence in 2021. He was also named to Law Bulletin Publishing Company's 40 Illinois Attorneys Under 40 to Watch for 2012.
Frank's commitment to the practice of law and professional associations includes a two-year term as Executive Vice President of the National Italian Bar Association, in addition to serving on the Board of Managers for the Illinois Trial Lawyers Association, the Board of Governors for the Illinois State Bar Association and formerly as the President of the Justinian Society of Lawyers and Workers' Compensation Lawyers Association.
Before joining Romanucci & Blandin, Frank worked as a law clerk for the Illinois Attorney General's Office and was an accountant-consultant for the Clerk of the Circuit Court of Cook County in law school. He is a certified public accountant as well as a registered investment advisor.
Education & Certifications
J.D., DePaul University College of Law, 2000
B.S., Commerce, Accounting, DePaul University, 1997
Registered Investment Advisor, 2003
Illinois Certified Public Accountant, 1998
Awards & Recognition
Recognized in The Best Lawyers in America©, 2017-2024
Selected to the Illinois Super Lawyers® list, 2016-2023
Selected to the Illinois Super Lawyers® 'Top 100' list, 2019, 2022-2023
Named a Leading Lawyer by Law Bulletin Publishing Company's Leading Lawyers Division, 2016-2023
Named a Top 100 Trial Lawyer as certified by the National Trial Lawyers, 2016-2023
Justinian Society of Lawyers Award of Excellence Recipient in 2021
Selected to the Illinois Rising Stars list by Super Lawyers®, 2010 – 2015
Named an Emerging Lawyer by Law Bulletin Publishing Company's Leading Lawyers Division, 2015
Named to the 40 Illinois Attorneys Under Forty to Watch by Law Bulletin Publishing Company, 2012
AVVO Top Rating 10/10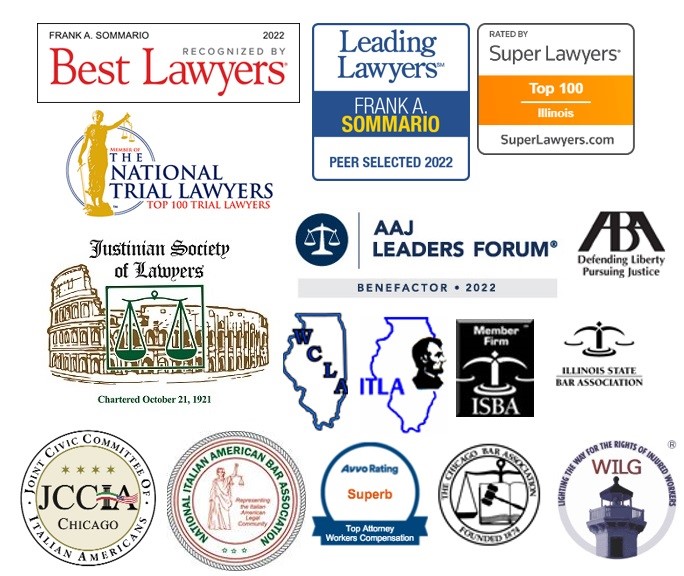 Legal Activities & Leadership
National Italian American Bar Association (NIABA)

President, 2023-Present
Executive Vice President, 2021-2023
Secretary, 2019-2020
Board of Directors, 2017-2019

Joint Civic Committee of Italian Americans (JCCIA)

Legal Counsel, 2021-Present
Delegate, 2015-Present

Illinois Trial Lawyers Association (ITLA), Board of Managers, 2016-Present
Illinois Bar Foundation (IBF), Silver Fellow, 2008-Present
Justinian Society of Lawyers

Endowment Fund, Chairman, 2018-Present
Comptroller, 2017-Present
President, 2016-2017
1st Vice President, 2015-2016
2nd Vice President, 2014-2015
3rd Vice President, 2013-2014
Treasurer, 2012-2013
Endowment Fund, Treasurer, 2012-2017
Secretary, 2011-2012
Executive Committee, 2009-2020

Fenwick High School Bar Association, Board of Directors, 2011-2016
Illinois Workers' Compensation Commission (IWCC) Rules Committee, Member, 2015
Workers' Compensation Lawyers Association (WCLA)

Comptroller, 2015–Present
President, 2013
Vice President, 2012
Treasurer, 2010-2011
Board of Directors, 2008-2014

Illinois State Bar Association (ISBA)

Board Liaison, Standing Committee on Law Office Management & Economics, 2013-2014
Board Liaison, Standing Committee on Continuing Legal Education, 2012-2013
Board Liaison, Intellectual Property Section Council, 2011-2012
Board Liaison, Standing Committee on Mentoring, 2010-2011
Board Liaison, Workers' Compensation Law Section Council, 2009-2014
Board of Governors, 2008-2014
Board Liaison, Federal Taxation Section Council, 2008-2014
Board Liaison, Environmental Law Section Council, 2008-2010
Co-Board Liaison, Young Lawyers Division Council, 2008-2009
Workers' Compensation Law Section Council, 2007-2009
General Assembly, 2006-2008

Synapse House

Board of Directors, 2016-2019

American Association for Justice (AAJ), Member
American Association of Attorney-Certified Public Accountants (AAA-CPA), Member
American Bar Association (ABA), Member
American Institute of Certified Public Accountants (AICPA), Member
Chicago Bar Association (CBA), Member
Chicago Council of Lawyers (CCL), Member
DePaul University Alumnus, Member
DePaul University College of Law Alumnus, Member
Fenwick High School Alumnus, Member
Illinois CPA Society & Foundation (ILCPA), Member
National Italian-American Foundation (NIAF), Member
Public Justice, Member
Sicilian American Cultural Association (SACA), Member
Women's Bar Association of Illinois (WBAI), Member
Women's Injury Law & Advocacy Group (WILG), Member
Notable Cases
Hallin v. Jim's Arco Service, July 2020, Workers' Compensation, $2,888,331.14 settlement
Tapia v. The Delong Company, August 2018, Workers' Compensation, $2,175,566.70 settlement
Williams v. Jesse White Tumbling Team, May 2015, Workers' Compensation, $2,053,000.00 settlement
Jurisdictions Admitted to Practice
Illinois, 2000
Northern District of Illinois, 2000
Minnesota, 2001
District of Columbia, 2001
Speaking Engagements
"Workers' Compensation: How the New Act Affects Physicians", 14th Annual Chicago Trauma Symposium, Presenter, August 2, 2012
Publications
"Odd-Lot" permanent total disability award affirmed, Vol. 45, No. 1, September 2007, Illinois State Bar Association, Workers' Compensation Law Newsletter
Statute of Limitations, 2008-2021, ITLA Worker's Compensation Lawyer's Notebook